Venn Street Market is a local community food market every Saturday working directly with farmers and small independent producers enabling our customers to meet face to face with the growers and makers of the foods available each week.
With a strong ethos of ensuring high quality and fair prices, the market guarantees all goods are locally sourced and seasonal. 
Ted's Veg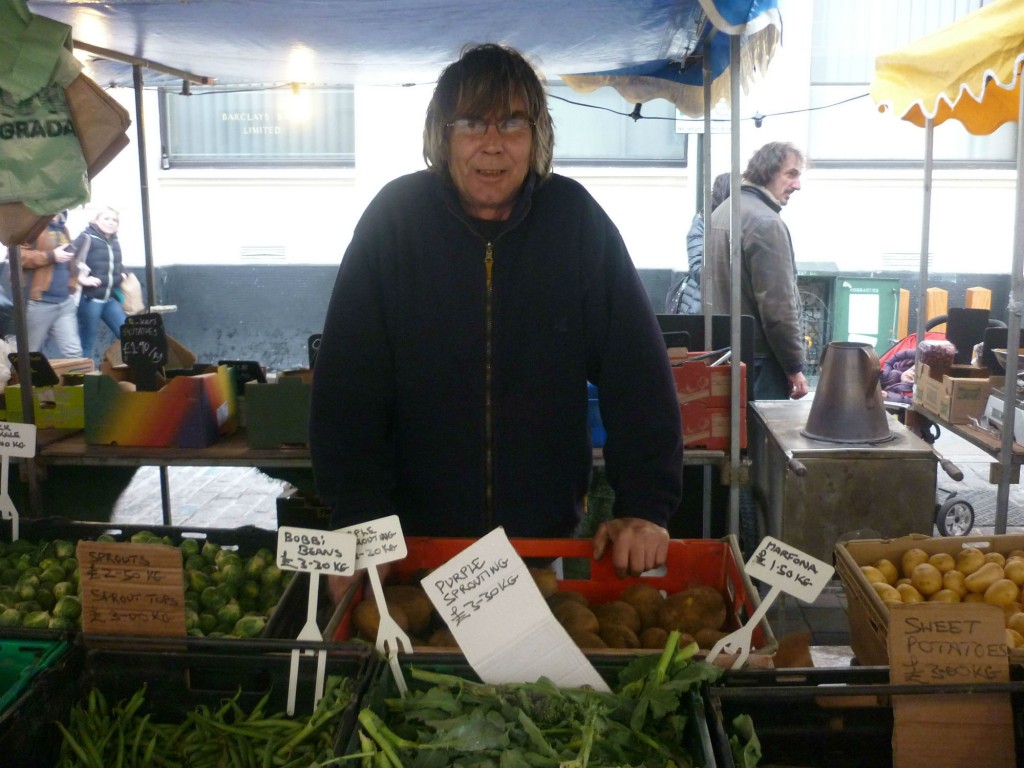 Our produce is harvested fresh each day from our Lincolnshire farm and we chose our vegetable varieties for taste rather than yield.  When in season, leaf crops such as lettuce, salad leaves, spinach, chards, kale and the herbs are picked  first thing in  the morning. This is followed by tomatoes, peppers and aubergines and then peas and beans. Later in the day the root, squash and other crops will be harvested.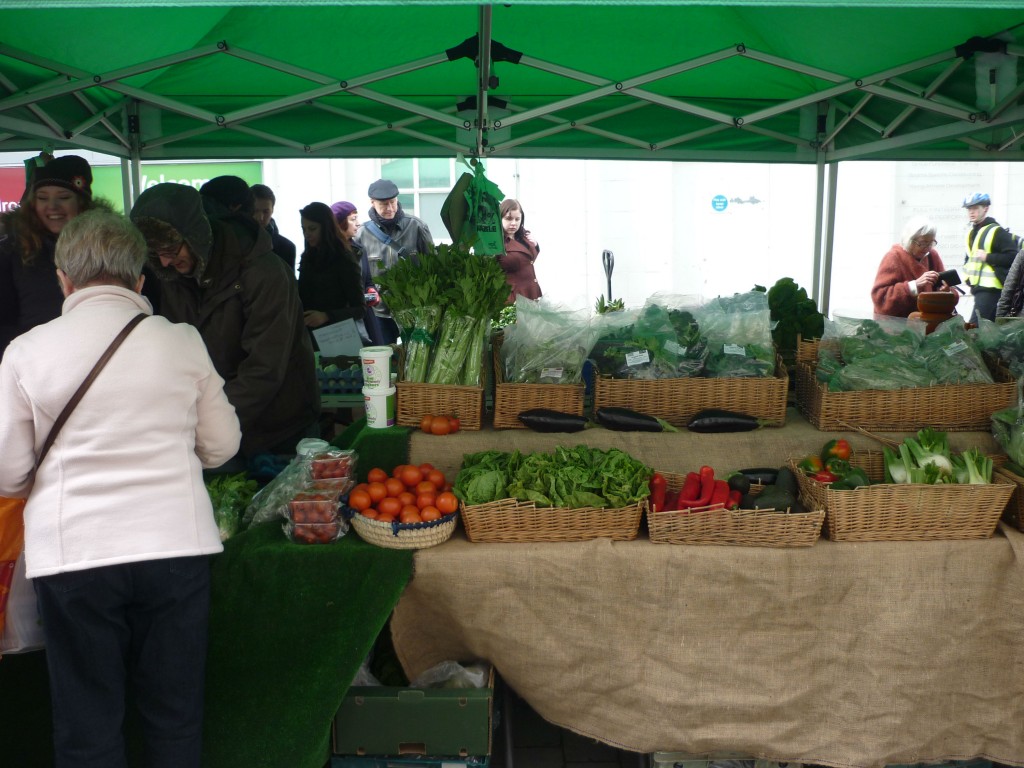 Perry Court Farm was taken on by the Brockman family in 1953 with the specific intention of creating an Organic and if possible Bio-Dynamic Farm. It now grows up to 10 acres of vegetables and has nearly 1/2 acre under poly tunnels. By using traditional crop rotation and manures to enhance soil fertility, the farm is a haven for wild animals and plants. 
The Farm grows traditional varieties that have a better flavour, and have recently diversified in selling wild and heritage crops. Nearly all the fresh produce sent to the market is harvested just 24 hours before.

Calabaza
Meet Calabaza – a new addition to the produce section which specialises in seasonal squashes and salads – would you believe it, their farm is in South London!
Why buy from Calabaza?
• Very local – our farm is in Carlshalton in South London, just 0.9 miles from Lambeth
• Harvested and sold within 24 hours – all of our salads, herbs and leafy greens are harvested for Venn Street Market within 24 hours of the market 
Harvested and sold within 24 hours means:
• Optimum storage life potential
• Optimum nutritional value
= High quality fresh local seasonal produce which is very good for you!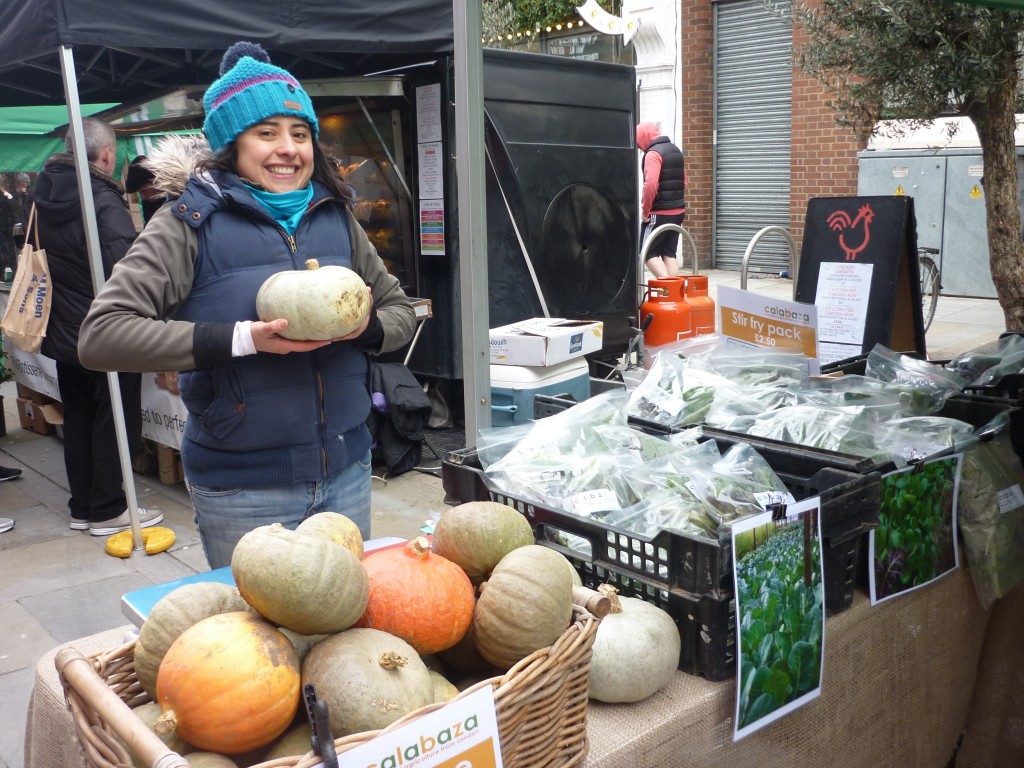 Portland Scallop Co
Portland Scallop Co are a small independent fishmongers from Chesil Beach in Dorset where they started out a few years back hand-diving for scallops. They offer the best British seasonal fresh fish from the Dorset shores. All fish is caught with net or line fishing and this time of year you can expect to catch a few lobsters and crabs!! 
The menu includes: lobster, crab, scallops, rope grown mussels, bass, bream, turbot, lemon & dover sole, makerel pate and crab soup.. and that's just for starters..
Gilcombe Farm
Gilcombe Farm offer a range of organic and free range cold meats from their farm in Somerset including beef, lamb, pork and poultry.
The seasonal game they supply is shot from the local farms – the birds are picked by hand ensuring a quality of presentation is second to none and includes pheasant, partridge, wood pigeon, local wild venison, wild mallard, rabbits, hare and game pie mix.  
The Farm also produces a variety of dairy products including raw and pasteurised milk at £1 per litre, cheeses and organic eggs – £1.75 for 6 and free
range £1.50 for 6!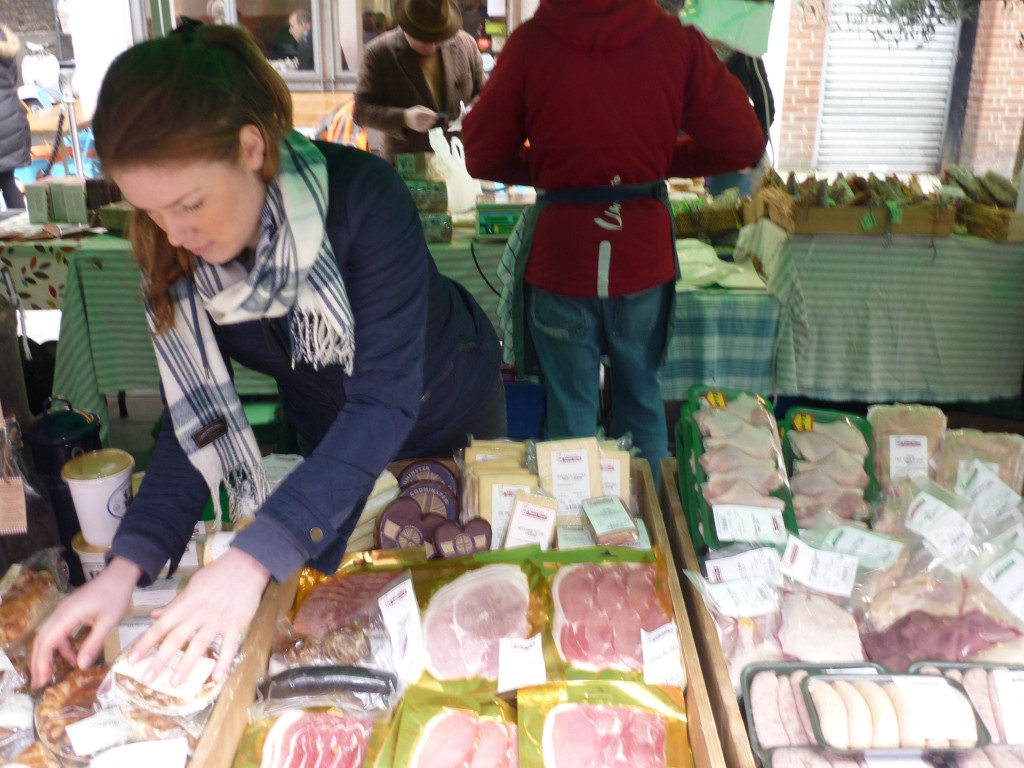 Bath Soft Cheese

The local Bath Cheese was once well known, and in its heyday was recommended to Admiral Lord Nelson in a letter from his father (dated 1801). We found the recipe in an old grocer's recipe book. It stipulates that the cheese must be made with full cream milk, that salt be sprinkled on the young cheeses with the aid of a feather, and that the cheese was soft and covered with white mould. Today the Bath Soft Cheese that we make (without the aid of feathers) frequently wins awards and we supply shops and delicatessens all over the country.
As well as our original Bath Soft Cheese we produce a variety of other cheeses: soft, hard and blue. All of them made with old fashioned manual methods which gives the cheeses more flavour.
 
Borough Cheese Co 
The Borough Cheese Company sells only one cheese: the French mountain cheese, Comte. In order to get the best Comte we travel to the Franche-Comte in Eastern France every five to six weeks, where we visit Fort St. Antoine home of Marcel Petite, affineurs of Comte cheese. There we select our cheese for sale back in London. See Borough Cheese Co select your cheese.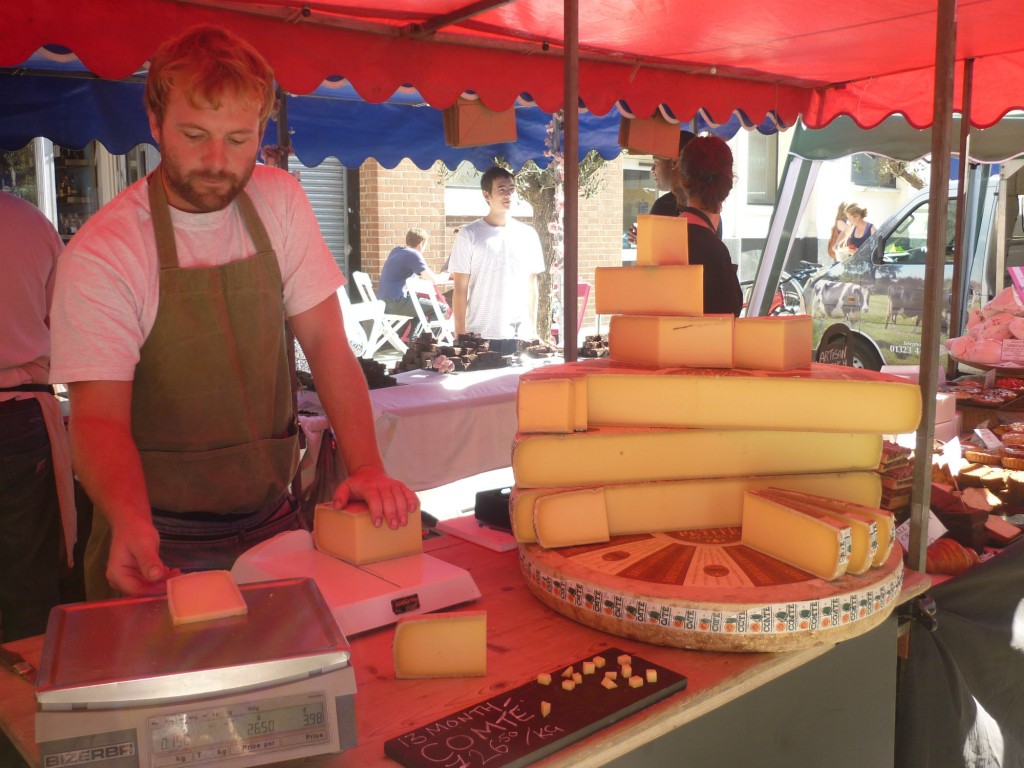 Pate Moi
Famous pâté, hand made with organic mushrooms from Suffolk and plenty of love. Adored by vegetarians and carnivores!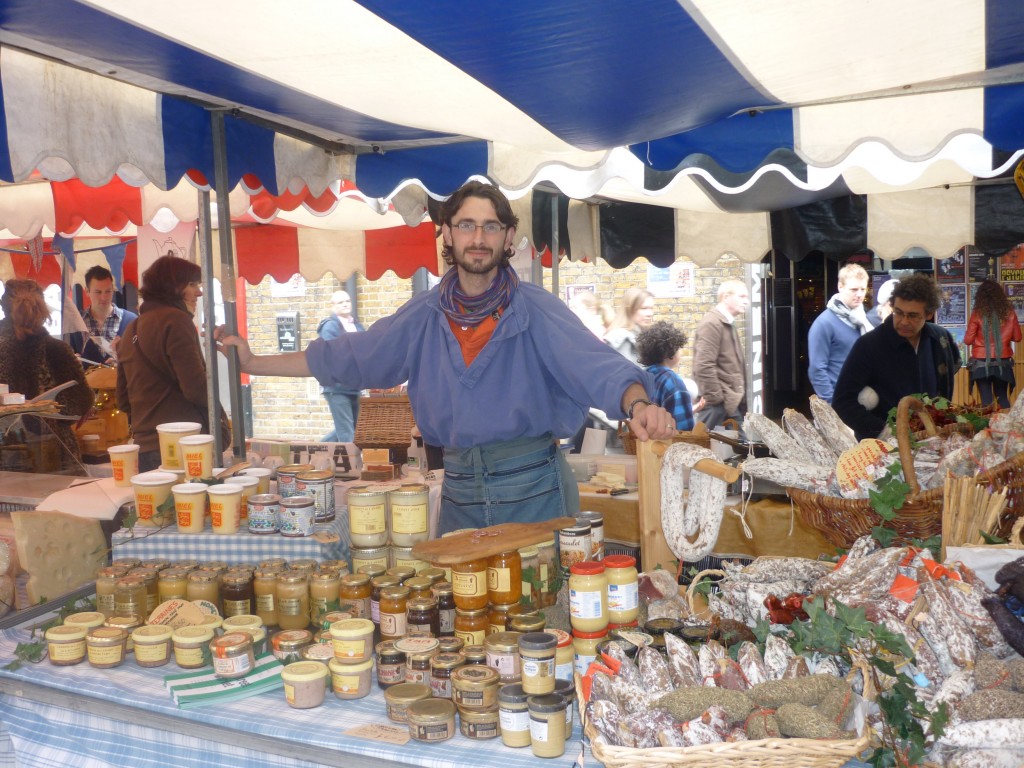 Une Normande a Londres, run by brothers Franck and Yann Le Blais, bring to many London street markets including Borough Market, the very best artisan cheeses, cured meats and preserves from across France. The heart of their success is their insistence in trading on street markets which allows them to remain close to their customers. 
The brothers have a deep knowledge of the French foodie scene inherited from their Camembert producing family and their focus has remained since 1990, when they first arrived in the UK, on natural, 'clean' products, manufactured using traditional methods.
 
Madame Gaultier
Madame Gautier is a classic French Traiteur – offering restaurant standard food to eat at home – as you would find in every village in France.
Madame Gautier is a family run business which, with our classically trained team of chefs, produces freshly made dishes from regional French recipes that have been passed down through generations. We use high quality produce sourced, wherever possible, directly from small producers and farmers we work with. Over the years we have grown in popularity but our values, quality and passion remain the same.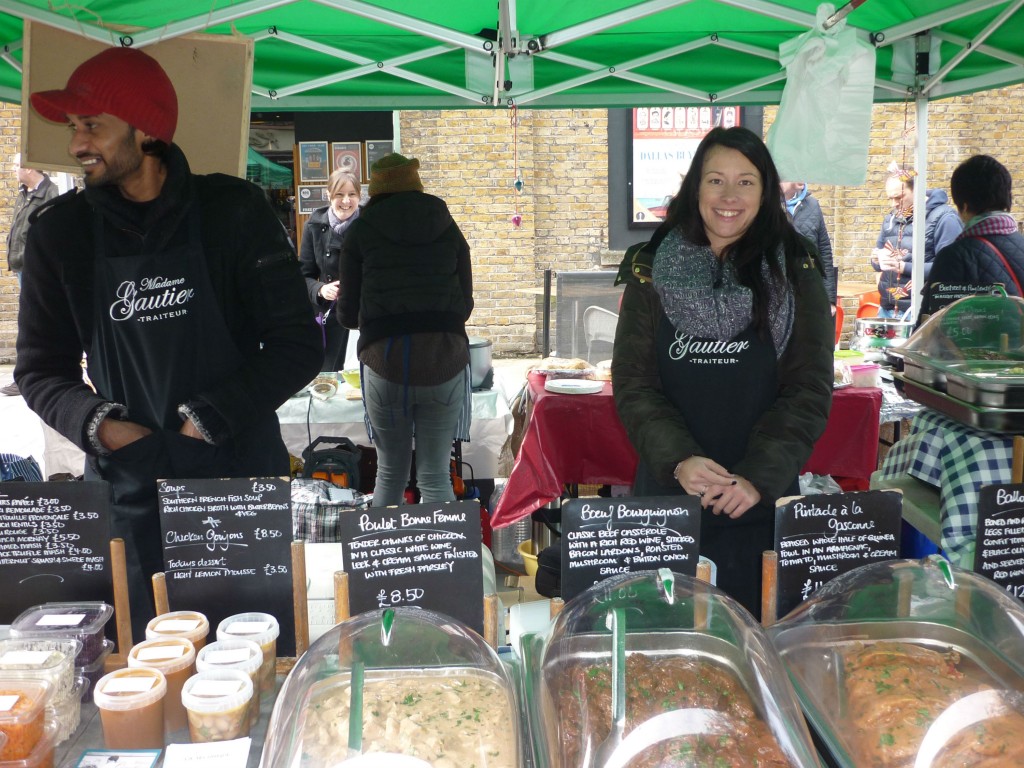 Ms Cupcake
Ms. Cupcake believes that everybody deserves great cake so they make cupcakes, layer cakes, cookies, muffins, squares, savoury treats and more that are 100% vegan… 
Additionally a lot of Ms. Cupcake's products are made without wheat or gluten, so there is something for everyone. Ms. Cupcake provide a rotating menu of over 100 different flavours of cupcakes, so you find something new each time you visit. Some best-selling items include their 'Ambassador' hazelnut and chocolate cupcake, their legendary cookie sandwiches filled with luscious buttercream, and their fresh and fruity muffins which are a perfect weekend treat! Ms. Cupcake is London's first entirely vegan bakery and is based in Brixton, South West London where everything is handcrafted from scratch each and every day.

Cannon & Cannon
We are the British Charcuterie Boys: we sell a wide range of cured meats from this exciting and fast-growing artisan movement from our stall, including our famous 3-for £10 deal. 
British charcuterie is a very exciting and fast-growing mini-industry. In recent times people have become both fed-up of mass-produced, uninteresting supermarket fodder and more interested in buying local and from traceable sources. For years we British have imported tons of cured meat from the Continent: Spanish chorizo and ham, Italian salami, French saucisson, and its often delicious.
Bad Brownie
Flavour crazy chocolate addicts hell bent on spreading gourmet brownie love, street by street. Bad Brownie put their gourmet brownies through bootcamp.  They're fudgier, tastier, richer – brownies with attitude.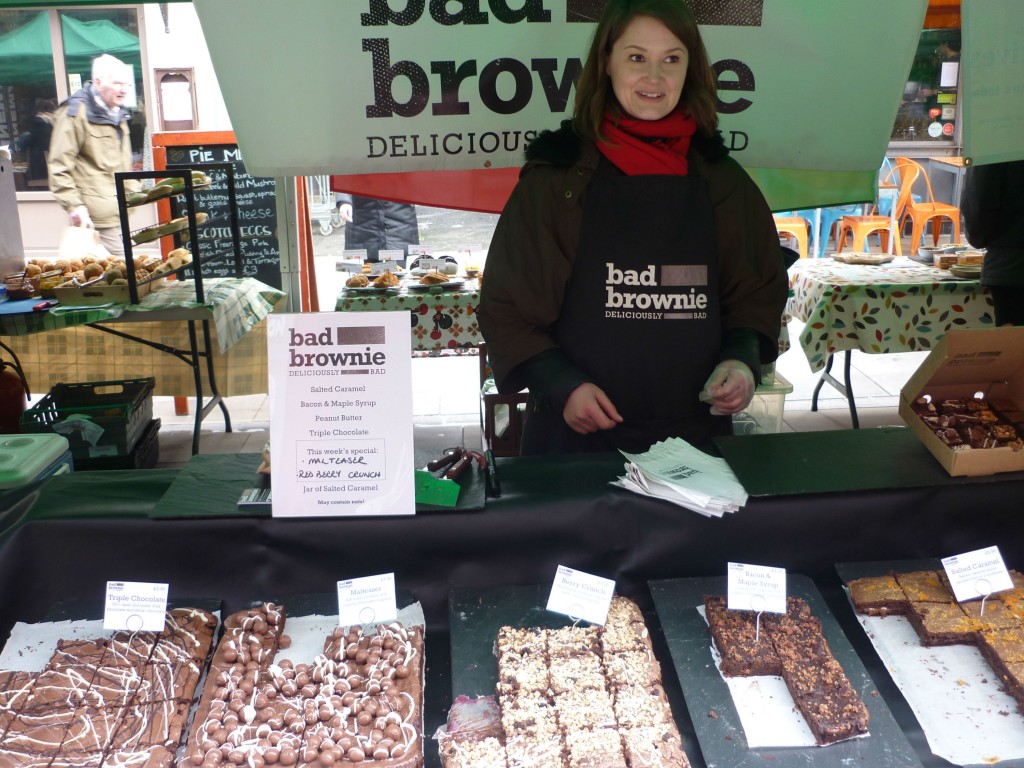 Other savoury artisan producers include  The Big Dipper (seasonal range of artisan dips and crackers), Flavours of Portugal (Portuguese savouries and cakes), OMGF (all Gluten Free pastas, pestos and biscuits), Limpopo (artisan South African Biltong), Little Welsh Rarebit (the clue is in the title), Mannings Juice (variety of British Apple & Pear juices), Oliviers Bakery (French Baker), Ladle & Larder (artisan chutneys and marmalades) and Sweet & Tart (meat and vegetarian quiches and pastries). 
D Vine Wine
Offer a great variety of organic and bio-dynamic world wines providing tasters and a glass or two to enjoy whilst taking in the market's colours..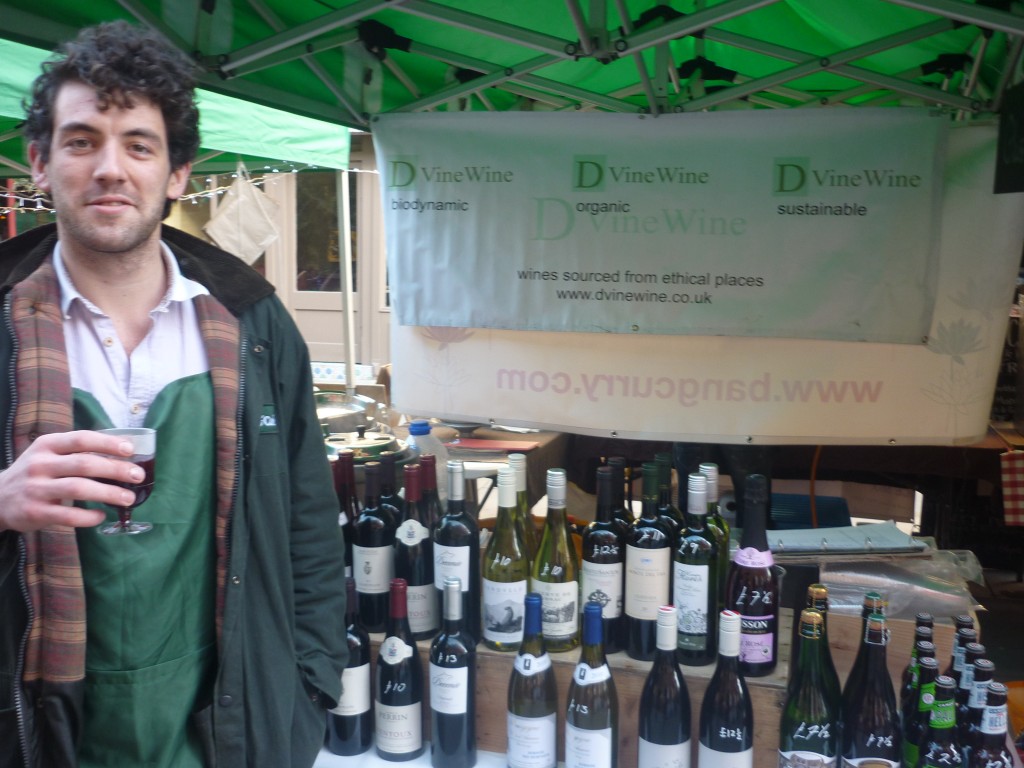 Venn Street Flowers
Speaks for itself! Truly a fantastic seasonal selection of flowers and bouquets with a focus on British..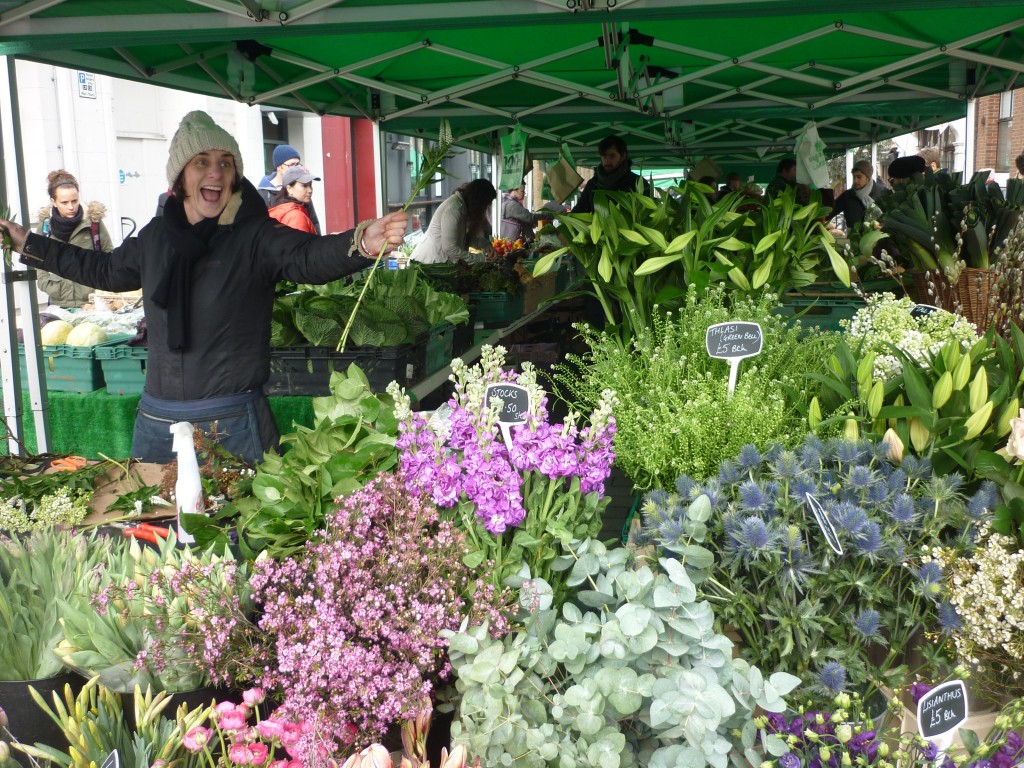 And if you're feeling peckish, there's sizzling herby hog roast from Moen & Sons; mouth-watering fresh GF and vegetarian falafels from Jacobs Finest; hot spit roast chicken ciabattas from The Rotisserie Co and an assortment of vegetarian and meat pancakes with scrumptious fillings from Whirled Pancakes - all providing exceptional food and drink!