Venn Street Market is a local community food market every Saturday working directly with farmers and small independent producers enabling our customers to meet face to face with the growers and makers of the foods available each week.
With a strong ethos of ensuring high quality and fair prices, the market guarantees all goods are locally sourced and seasonal. 

Ted's Veg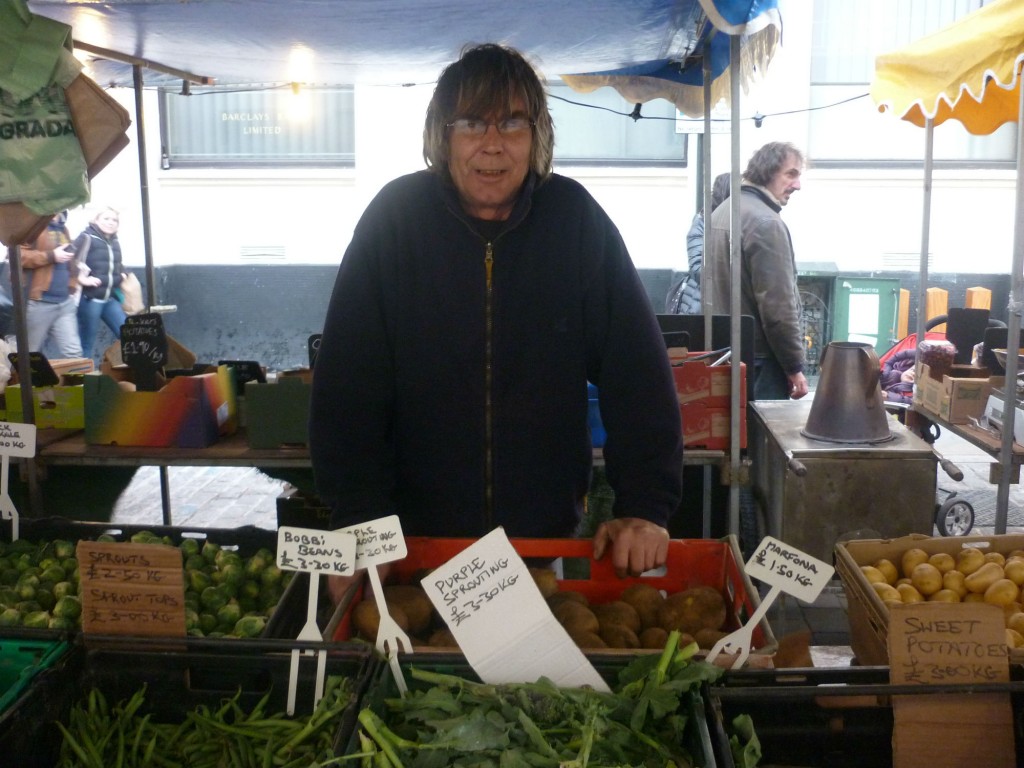 At Ted's Veg, farming is in our blood. We've been farming now for at least four generations and we look forward to farming for generations to come. Our farm is in Boston, Lincolnshire. We started off farming root veg but as years went by we expanded, relocated and evolved to what we are today. One thing has always remained though; our produce has always been grown with love and fuelled by passion. Ted's Veg is committed to providing our customers with the freshest, home grown harvested produce, as well as sourcing the best exotic produce from around the world. An ever-changing range of seasonal homegrown vegetables and salads is picked everyday for its freshness therefore giving it the taste, our customers deserve. Please be warned, our crops are grown chemical free, so you may find the odd bug, slug or caterpillar in your Ted's goodies!
Working with a collection of local organic and biodynamic farms in Kent, Greener Greens are very proud of their growers and their ethos towards organic and environmentally friendly farming. Get to know our growers and where your food comes from at Venn Street Market!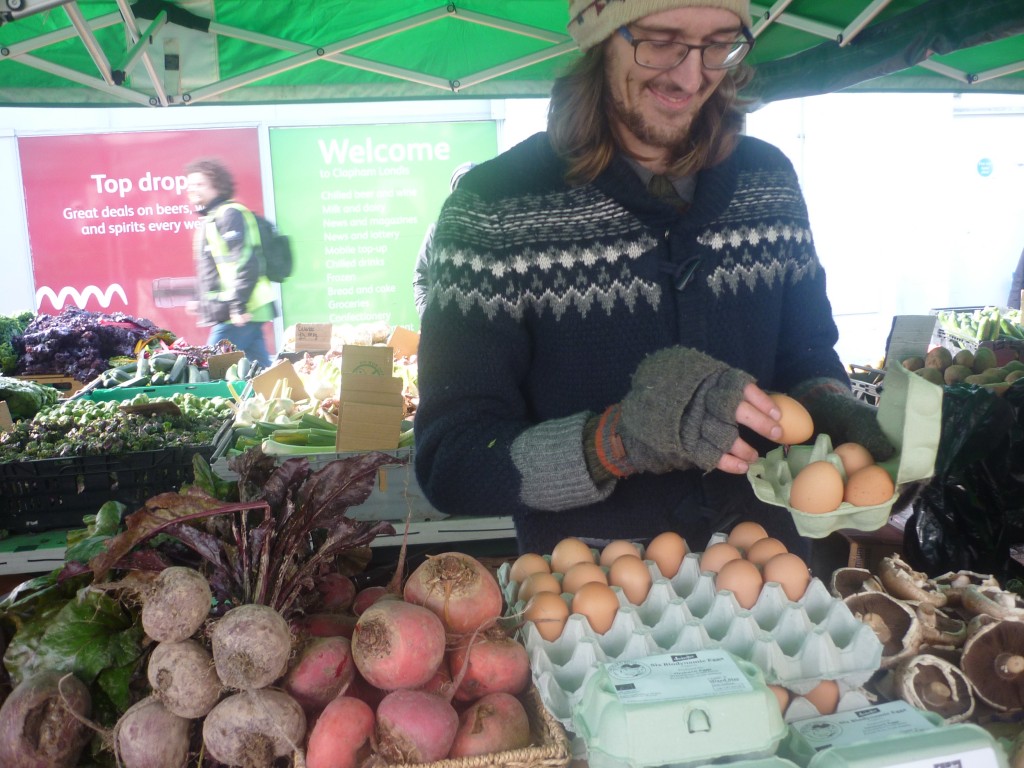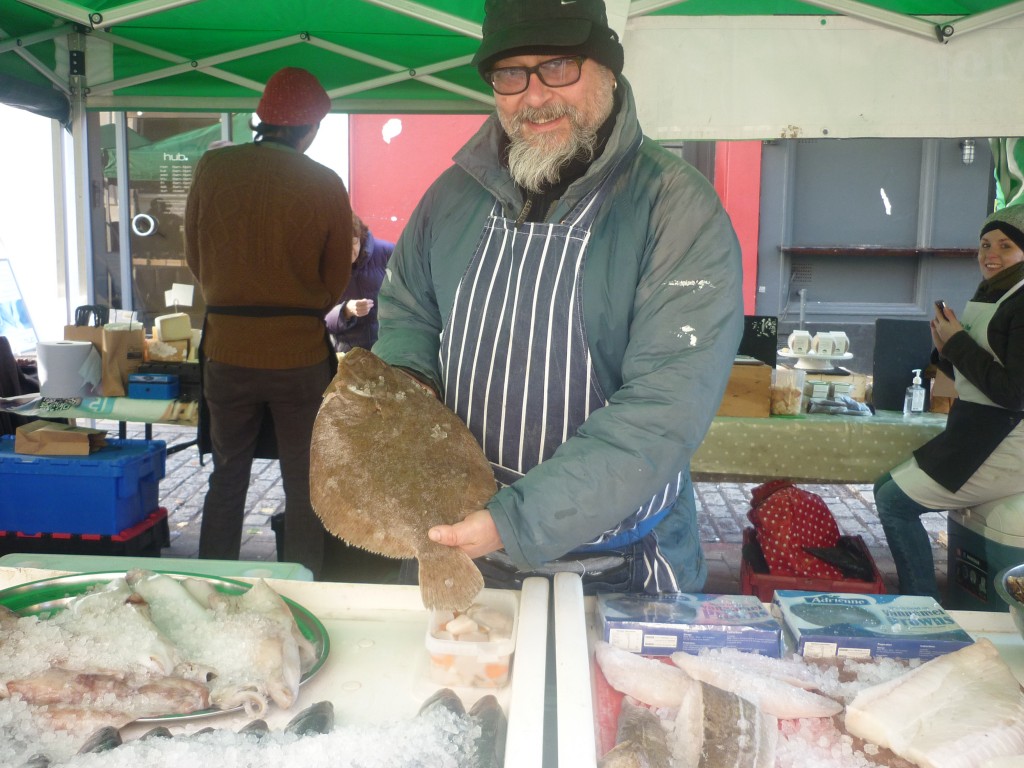 Portland Scallop Co are a small independent fishmongers from Chesil Beach in Dorset where they started out a few years back hand-diving for scallops. They offer the best British seasonal fresh fish from the Dorset shores. All fish is caught with net or line fishing and you can expect to catch a few Portland lobsters and crabs!
The menu includes: lobster, crab, scallops, rope grown mussels, bass, bream, turbot, lemon & dover sole, makerel pate and crab soup.. and that's just for starters..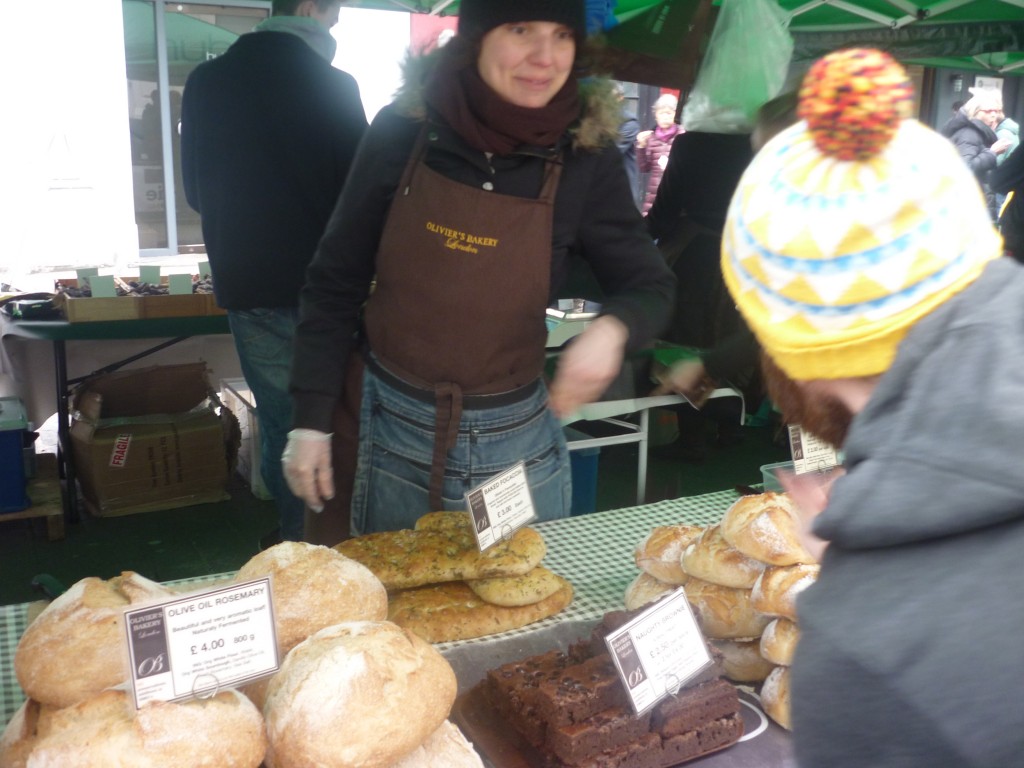 Olivier has been the market's baker since it opened in 2009 and has 24 years experience as a baker and pastry chef. Based in South East London, Olivier brings to Venn Street fresh handmade French breads, croissants, cakes and pastries including his special selection of 100% spelt bread.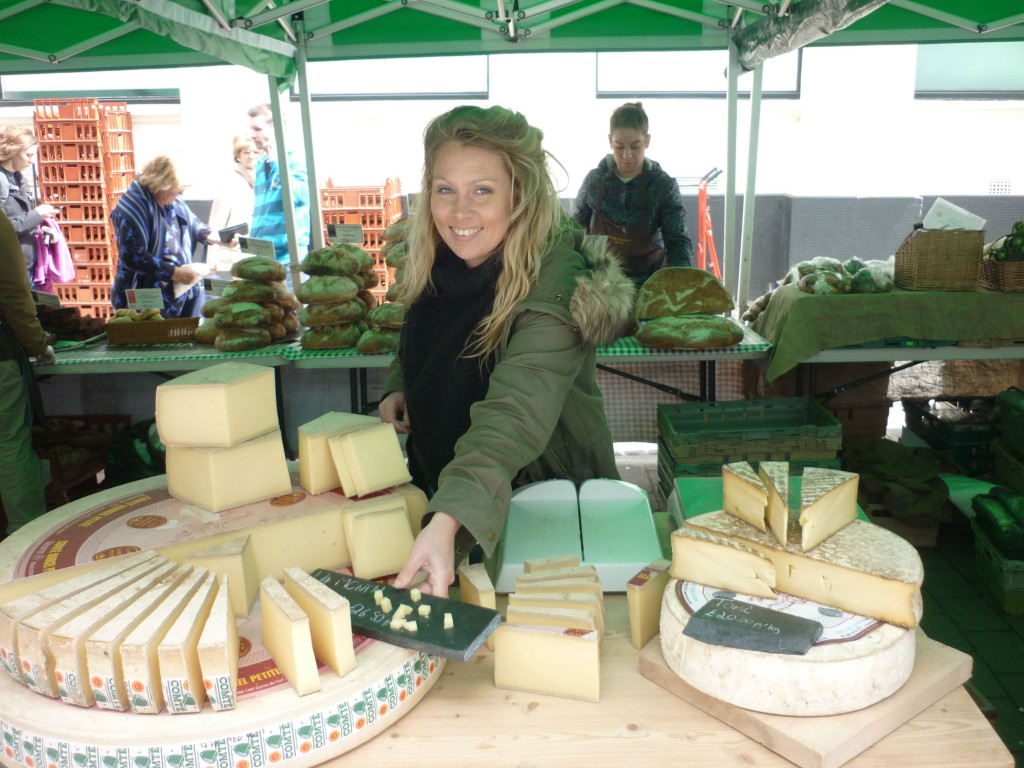 The Borough Cheese Company sell two French mountain cheeses, Tome and Comte. In order to get the best Tome and Comte cheese, the Borough Cheese Co travel to the Franche-Comte in Eastern France every five to six weeks, where they visit Fort St. Antoine, home of Marcel Petite, affineurs of Comte cheese. See Borough Cheese Co select your cheese.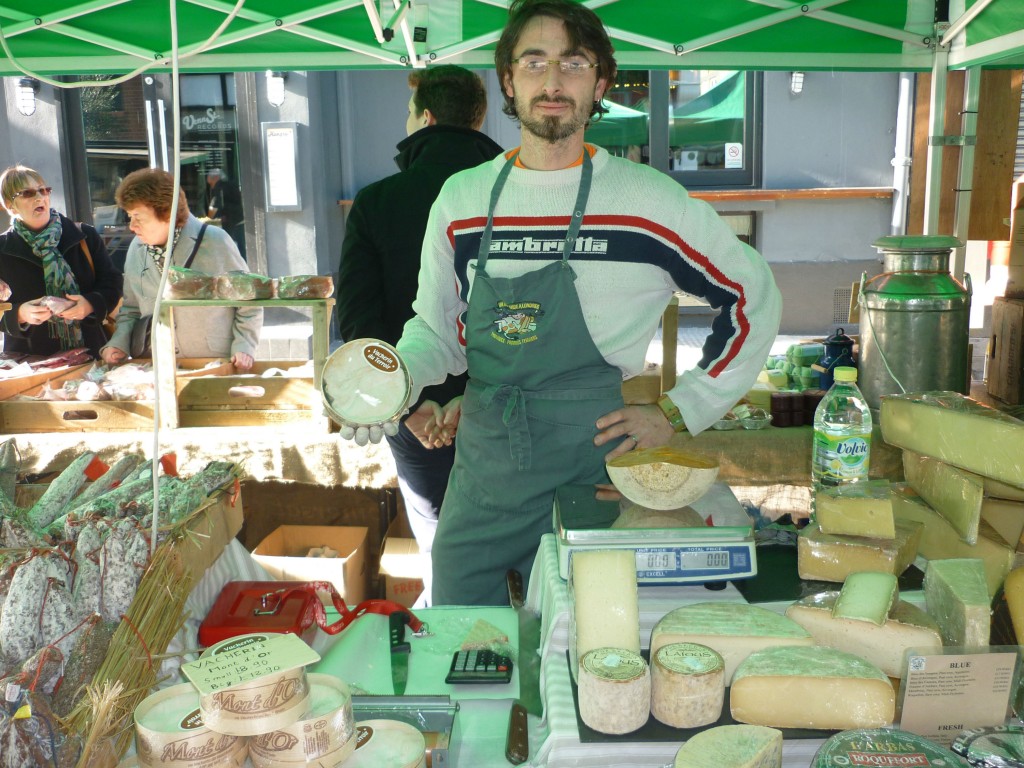 Une Normande a Londres, run by brothers Franck and Yann Le Blais, bring to many London street markets including Borough Market, the very best artisan cheeses, cured meats and preserves from across France. The heart of their success is their insistence in trading on street markets which allows them to remain close to their customers. 
The brothers have a deep knowledge of the French foodie scene inherited from their Camembert producing family and their focus has remained since 1990, when they first arrived in the UK, on natural, 'clean' products, manufactured using traditional methods.

Bad Brownie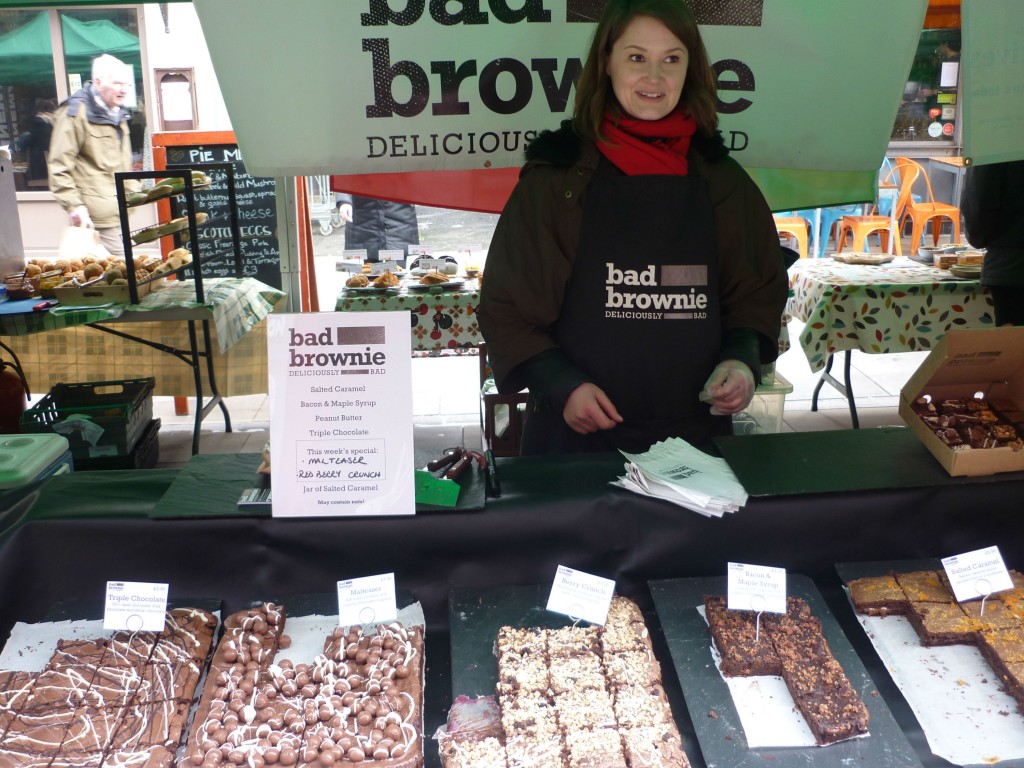 Bad Brownie are flavour crazy chocolate addicts hell bent on spreading gourmet brownie love, street by street! They put their gourmet brownies through bootcamp.  Their brownies are fudgier, tastier, richer and with attitude.


Amongst all these wonderful stalls are more fantastic specialist traders including:

Bath Soft Cheese – award winning organic cheese made by hand in Park Farm, Bath. The range of cheeses includes the historic Bath Soft Cheese, Wyfe of Bath, the Merry Wyfe and the 2014 World Champion Bath Blue Cheese (trade fortnightly).
Chango Empanadas – Argentinian Empanadas
Flavours of Portugal – sweet and savoury Portuguese treats
Heritage Cheese – a Borough Market trader with a fine selection of quality British cheeses including Cheddar, Somerset Blue and Beauvale to name a few (trade fortnightly).
Hush Hush – vegetarian quiches and salads
Marsh Produce
– cold meats: beef, rare breed lamb & pork, chicken, Dexter beef and homemade sausages
Popina – sweet and savoury award winning baked goods
The Meat Boss – South African Biltong, Drywors & bites
Zeytoon Bar – fresh mediterranean olive and salad bar

Plus quality brunches & lunches..
Moen & Sons – sizzling herby hog roast
The Rotisserie Co – hot spit roast chicken ciabattas
Venn Street Flowers
A fantastic seasonal selection of flowers and bouquets with a focus on British..