CHRISTMAS MARKETS in DECEMBER 2013
(Closed 28th December – reopen 4th January 2014)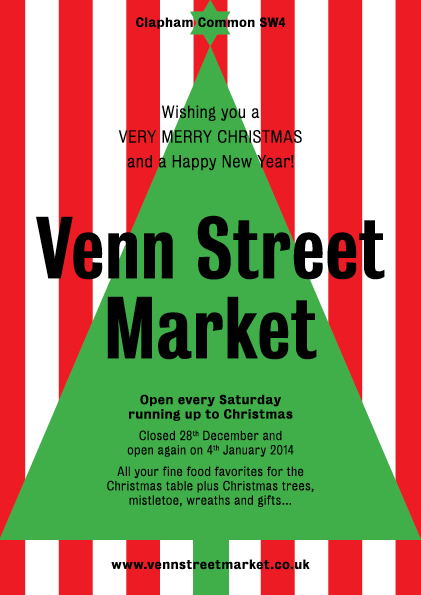 Venn Street Market is open every Saturday in December running up to Christmas with fine foods and fresh produce from a variety of small British independent and artisan producers offering all our Christmas shoppers something special for the Christmas table! A variety of handmade arts and crafts will also be available for all the family as well as Christmas trees and floral decorations..
With two outstanding butchers and farms providing the markets fresh meats, there are no excuses for not indulging and providing your family and friends with the finest Christmas dinner ever!
Fosse Meadows Farm From the beginning of December, Fosse Meadows will be taking orders for the full range of traditional free range poultry produce. They'll also be taking orders for free-range turkeys and geese.
Gilcombe Farm provide the market each weeks with a range of organic and free range cold meats from their farm in Somerset including beef, lamb, pork and poultry. As the gaming season starts up, pheasants, mallards and partridges will also be available throughout the Christmas season. All Christmas orders can be collected on 28th December. Gilcombe Farm also produce a variety of dairy products such as raw and pasteurised milk – best value in London at £1 per litre, cheeses and organic eggs at £1.75 for 6 and free range £1.50 for 6.

Portland Scallop Co will be taking orders for the freshest British wet and shell fish (including lobster and crab) caught off the South West coast off Chesil Beach in Dorset – London's best fishmonger for miles!
 At the head of the market are two of London's top fruit & veg market traders known for their high quality produce: 
Perry Court Farm are Kent's first organic and biodynamic produce farm established in 1953! For Christmas there will be fresh horseradish, parsnips, brussel sprouts including a red variety (lovely flavour!), heritage roasting potatoes, jerusalem artichokes, red cabbages and all other seasonal lines.
Ted's Veg from the Lincolnshire farm will bring a huge choice of fresh seasonal root vegetables and more with all the trimmings! 
D Vine Wine is ready for the Christmas season with a range of sensationally good organic and biodynamic wines. Also available from November is their fantastic mulled wine or Normandy cider by the glass keeping the winter chill at bay.
There are a number of Borough Market favourite cheesemongers. Last year the queues continued all day so get to the market early!
Bath Soft Cheese – As well as their original Bath Soft Cheese, BSC produce a variety of other cheeses: soft, hard and blue. All of them made with old fashioned manual methods which gives the cheeses more flavour..
The Borough Cheese Co who specialise in Comte cheese, will also be selling for Christmas two other cheeses both from the Jura. They are Mont D'Or – a silky-soft cows' milk cheese and Tome Fort St. Antoine a semi soft cheese with a natural rind.
Une Normande de Londres specialising in all varieties of French delicious cheeses, salamis, pates, pickles and chutneys. 
Breads, patisseries and cakes are aplenty this year with a huge variety from fresh artisan bakers including:
The Old Post Office – London's first organic bakers founded 30 years ago on Venn Street offering a seasonal selection of Christmas cakes, mince pies and stollen bread.
Olivier's Bakery each week bring a vast collection of fresh baked French breads to the market.
Ms Cupcakes, local vegan bakers from Brixton are joining the celebrations with Christmas themed cupcakes – O'Christ-mint Tree, Mince Pie, Marzipan, Egg Nog, Cranberry, Spice Tangerine plus traditional sugarpaste and marzipan Christmas cakes, Gingerbread men, sugar shaped cookies and mince puffs, of course!
Other specialist produce stalls making a difference this Christmas are:
The Big Dipper – Our range of award winning dips include a roasted butternut squash autumnal dip, a classic British combination of beetroot and horseradish, a fresh summery pea dip and a southern American inspired smokey black-eye pea and roasted walnut dip. This new range of vegetable dips are superbly tasty and completely natural.
Pate Moi – Loved by vegetarians and meat eaters. Pâté Moi's hand-made organic mushroom pâté is delicious for Xmas canapés, fabulous with a glass of Prosecco or in a Beef Wellington. Try it and love it!
Pasta di Grazia – Artisan producers of high quality hand-made pastas filled with the freshest ingredients. The fillings range from chicory and speck to walnuts and gorgonzola and are unlikely to be found in any supermarket-branded pasta.
If you're feeling peckish, there's the sizzling herby hog roast from Moen & Sons, hot spit roast chicken ciabattas from The Rotisserie Co and assortment of vegetarian and met pancakes with scrumptious fillings from Whirled Pancakes – all providing outstanding food and drink..
FLOWERS, CHRISTMAS WREATHS & TREES
From 30th November, Venn Street Market Flowers will be providing all of Clapham with great value and quality trees. The trees are grown in Crossways Nursery in Surrey and include Super Grade Nordman Fir and Super Grade Noble Fir.
Amongst the trees, VSMF will bring each week an amazingly colourful display of high quality flowers for all special occasions and lots of mistletoe.. All trees and bouquets can be pre-ordered for collection at the market every Saturday in December.
Our brilliant florist Wildflowers will be creating unique Christmas wreaths and decorations using seasonal foliage, flowers and berries. There will be a selection of traditional and contemporary bouquets, winter posies, gifts for all your friends. All bouquets and items can be pre-ordered for collection at the market every Saturday in December.