Please VOTE for Venn Street Market as one of your favourite Shops in Clapham – if we get nominated we could receive our second Love London Award from Time Out!!
All you need to do is go to the link below and click Nominate. Then look for Clapham as the Neighbourhood and click on Shops as the venue – we are included in this list but you'll need to scroll to the bottom and click Show More +..
It's very simple and easy to do, and would mean so much to us all at the market!!
Thanks for your time and hope to see you at Venn Street Market very soon..
http://www.timeout.com/london/lovelondonawards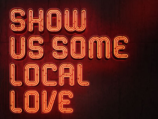 WE'RE LOOKING FOR LOCAL, STRONG, HEALTHY, RELIABLE ASSISTANTS TO SET UP AND BREAK DOWN THE MARKET ON SATURDAYS 
This is hard manual work setting up gazebos, lifting weights etc so need physically fit individuals who live locally. This role does not include assisting on the stalls during the day. 
Times of work: 8am – 10am and 4pm – 6pm 
FEES ARE GOOD: 4 HOURS AT £50 (DAILY FEE)
For more information please email: kate@vennstreetmarket.co.uk